GI BLOG
Your Daily Dose of Guitar News & Reviews
Alvino Rey and String the Talking Steel Guitar
Move over Les Paul. Move over Leo Fender. Move over Paul Bigsby. Looks like Alvino Rey might have a claim to at least a share of the age-old "inventor of the modern electric guitar" debate.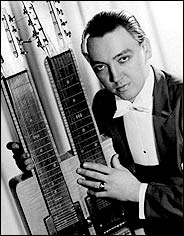 Alvino Rey was born Alvin McBurney on July 11, 1908, in Oakland, California. At age 8, he built his first radio, and soon afterward he received a banjo as a Christmas gift, and by age 15, his aptitude for both music and electronics led to him building an electrical guitar amplifier. In 1930, while working in San Francisco, Rey became the first guitarist to electrify the guitar, so he could be heard in the orchestra setting.
In spring of 1935, Gibson Guitar asked Rey to help develop a prototype pickup with the engineers at Lyon & Healy in Chicago. The pickup was eventually finished in-house at Gibson by Walter Fuller, and it was then installed in an f-hole archtop guitar dubbed the ES-150, which is now commonly known as the Charlie Christian model, named for the pioneering jazz guitarist who first used it.
By this time, Rey had become a rather accomplished pedal steel guitar player and, in fact, is recognized in some circles as the father of pedal steel guitar. But, despite that honor and also being one of the best-paid sidemen in the industry in the 1930s, it was his "talking guitar" experiment for which he may be best remembered. In 1939, Rey used a carbon throat microphone to modulate his electrified pedal steel guitar sound, in a rather crafty—if sneaky—way. During the performance, his wife Luise (who was formerly of the King Sisters singing group) would wear the mic and stand behind a curtain and sing along with Rey's guitar lines. It was coined "singing guitar," and is credited as the first-known talk-box experiment.
Here's video of Rey and his singing guitar puppet "Stringy" (Luise behind the curtain) performing "St. Louis Blues," in 1944.