GI BLOG
Your Daily Dose of Guitar News & Reviews
New ZAKK WYLDE Models from Gibson and Epiphone
This past Friday (Oct. 30), guitarist Zakk Wylde of Ozzy Osbourne (guitar tab and lessons) and Black Label Society (guitar tab and lessons) fame was hangin' at New York's renowned 48th street Sam Ash music store, where he was promoting the new Gibson USA Zakk Wylde Bulls-eye and Epiphone Graveyard Disciple models. You can check out footage of Zakk playing his custom Disciple model and discussing the guitar in a video shown here.
The Graveyard Disciple sports a coffin-shaped body with tapered edges and pin-striped trim. As with Zakk's other guitars, the neck is hard maple with a smooth, satin finish, and is capped with an ebony fretboard and medium-jumbo frets. The guitar also comes with a Floyd Rose tremolo and EMG HZ pickups. Other features on the new Graveyard Disciple include a bound headstock with a mother-of-pearl cross inlay, black Grover tuning machines, mother-of-pearl topped metal knobs, non-rotating output jack, and Zakk's signature silhouette on the back of the headstock. To allow you to practice while seated, the guitar features the patented Steinberger LegRest. The guitar comes with a custom-made Coffin case featuring the Graveyard Disciple artwork on it. And for this limited edition model, you also get a Certificate of Authenticity.
The new Zakk Wylde Gibson USA BFG Guitar features a rough-hewn book-matched maple top, a rounded '50s spec neck with ebony fingerboard, and EMG 81 and 85 humbucking pickups. The guitar comes in either a Bulls-eye or a Buzzsaw graphic over a satin natural nitro finish. For more details, visit Epiphone.com and Gibson.com.
SHINEDOWN & PAPA ROACH Announce Co-Headlining Dates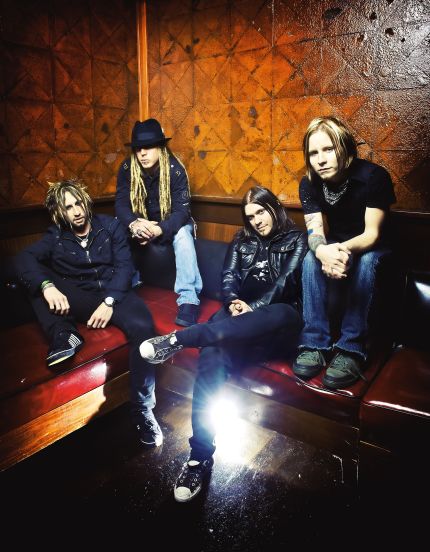 Two of today's most popular rock acts, Shinedown (guitar tab) and Papa Roach (guitar tab), will kick off a co-headlining tour on December 5, in Highland Heights, KY, and both bands are donating proceeds from the tour to charities close to their hearts.
"We're really excited to combine forces with Papa Roach on these dates," says Shinedown singer Brent Smith. "I guarantee you this: it's gonna be loud!"
Shinedown will be donating a portion of the proceeds from the tour to the Center for Autism & Related Disabilities (CARD) at the University of Florida College of Medicine-Jacksonville. The hometown center works to educate and empower individuals and families through support, assistance and awareness within the community to optimize the potential of all individuals with autism and related disabilities. For more information about CARD, please visit shinedown.com.
Launching on this tour, Papa Roach has partnered with WHY (World Hunger Year) to support local and national efforts to end hunger and poverty. The band will be auctioning off special VIP fan experiences at their web site, including meet and greets, an interview with the band, side-stage tickets, soundcheck access, and much more—with all proceeds going to WHY. In addition to raising money, Papa Roach will build awareness from the stage along their tour stops and visit local food banks and homeless shelters to lend support. The statistics are staggering: 36.2 million Americans are hungry, and every day almost 16,000 children from around the globe die from hunger-related causes.
"We're proud to work with World Hunger Year to help those in need," explains Papa Roach front man Jacoby Shaddix. "We've been fortunate enough to have a voice and we want to use it by giving back. We encourage everyone to help out their local communities."
Papa Roach on Tour with Shinedown:
12/5 Highland Heights, KY
12/6 Erie, PA
12/8 Binghamton, NY
12/12 Cedar Rapids, IA
12/15 Rockford, IL
12/16 Poplar Bluff, MO
For tour updates and more, please visit www.shinedown.com and www.paparoach.com