GI BLOG
Your Daily Dose of Guitar News & Reviews
Happy Birthday Freddie King!
Born September 3, 1934, Freddie "The Texas Cannonball" King would go on to become one of the most important electric blues guitarists in history, influencing such modern-day legends as Stevie Ray Vaughan, Eric Clapton, and Lonnie Mack. King passed away on December 29, 1976, of heart failure. He was just 42.
Freddie King guitar tab and jam tracks
Though he left us prematurely, King's blues legacy is timeless. He rose to prominence in the early '60s on a wave of instrumentals including "The Stumble," "San-Ho-Zay," and of course, his signature song, "Hide Away," that along with his "Tore Down," would go on to become modern day blues standards.
For essential Freddie King, look to his 1961 debut, Let's Hide Away and Dance Away With Freddy King, and his 1971 release, Getting Ready. Check out the video below to see Freddie performing "Hide Away" on the television show, "The Beat," in 1966.
Mark Tremonti Talks Gear and AB III - Part 2
continued from previous post
Whilst backstage, we also talked a bit about the new Alter Bridge album (see cover art below), at which point, he reached into his backpack, pulled out a CD-R, and popped it into the boom box. And there it was—new Alter Bridge music. Although we only got to hear little bits and pieces, it was enough to mark the release date on my calendar. As both Mark and Myles have said in interviews across the board, the music and lyrics do indeed have a darker, moodier vibe. With the caveat that we only heard a few minutes, it appears that AB III is the natural progression from the title track of Blackbird, a hunch that is confirmed by Tremonti.
"Well, that's the direction this album is going," he says. "There's a song on the new album called 'Show Me a Sign' that is similar, but darker. For example, when I went in to sing my harmony parts, I was reading some of Myles's lyrics for the first time, and afterward, I wanted to go ask him if he was OK. Some of the lyrics are so dark ... they pretty much couldn't be more opposite to Creed lyrics. They deal with struggles of faith and giving up hope. I think it's good to explore those dark moods, and it helps the artistic process, but it really made you want to give Myles a hug." [laughs]
The band will hit the road as soon as the album hits the shelves, trekking across Europe from October through the end of the year. Then, Tremonti says they'll try to squeeze in 10-15 U.S. dates in January, before Myles goes out again with Slash until March 2011. During the hiatus, Tremonti says he may try to work on his solo album. "I've already recorded five songs," he says, "and if I've got two and a half months, I'm gonna be working!"
Here's the track list for AB III. For a complete list of tour dates and the latest updates, visit AlterBridge.com.
Slip To The Void
Isolation
Ghost Of Days Gone By
All Hope Is Gone
Still Remains
Make It Right
Wonderful Life
I Know It Hurts
Show Me A Sign
Fallout
Breathe Again
Coeur D'Alene
Life Must Go On
Words Darker Than Their Wings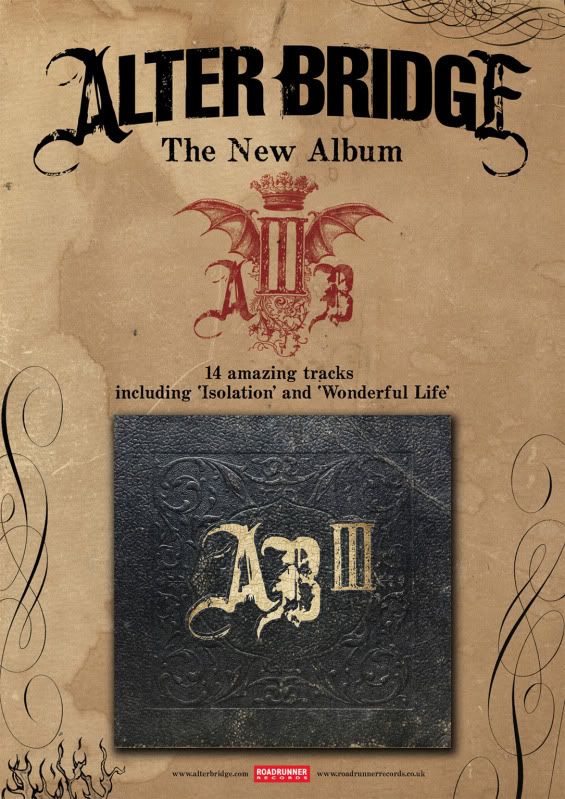 Mark Tremonti Talks Gear and AB III - Part 1
Having recently wrapped up their third album, AB III, and inked a new worldwide (except North America) deal with Roadrunner Records, Alter Bridge is poised on the brink of big things. I recently caught up with guitarist Mark Tremonti backstage during Creed's stop in Holmdel, New Jersey.
Not surprisingly, our visit quickly turned into an impromptu jam session. Turns out Tremonti had quite a few guests that night, and thankfully, one of them had a PRS Tremonti SE along for autographs, which he graciously loaned to me. Mark then proceeded to show me all his new favorite Robben Ford and Audley Freed progressive blues licks, as well as a doozy of a Shawn Lane finger-twister that may soon make an appearance as the Guitar Instructor Lick of the Week.
For the backstage jam room he secures at each stop on the tour, Tremonti carries the ultra-portable (and great-sounding) Roland Cube, but for his home practice and writing sessions, he takes it up a notch. "I absolutely love the Bogner Shiva 1x12 combo for practice and demoing," says Tremonti. "I also just bought a Dunlop Univibe, and I love it; I've got a couple of similar pedals, but the Univibe is just what I've been looking for. I also use an Echoplex delay pedal, my signature Morley wah, and an Ibanez TS-9, and that's my home rig."
Tremonti's live rig, as I got to see up close that night, has changed a bit, too. As his fondness for fluid, smooth blues players has grown, so has his quest for that silky lead tone. Hence, there was a very surprising head in his backline. "My main lead amp is the Two-Rock Custom Signature Reverb 100, which they juiced up for me a bit—gave it a bit more gain," says the guitarist. "I also sometimes use a Bogner Shiva head for my lead sound. But my rhythm sound sound for the past five years has been the combination of a Bogner Uberschall and a Mesa Boogie. The Uberschall has that nice, rich, warm, spongier kind of attack, whereas the Boogie is just really tight. You put them together, and they complement each other perfectly. I just haven't been able to top it."
continued in next post, where Mark discusses the new Alter Bridge album, AB III
Here's that live rig in action that night in Holmdel: