GI BLOG
Your Daily Dose of Guitar News & Reviews
Bill Ward Will Not Play With Black Sabbath on Summer 2012 Dates
In a letter posted on his web site, Black Sabbath drummer Bill Ward declared that, due to an "unsignable contract" (i.e., he feels he's not being offered a fair share of the money, which may or may not be true), he will not be playing with Sabbath this summer, thus ending any hope for a full-on reunion in the foreseeable future.
Black Sabbath guitar tab, video lessons, and jam tracks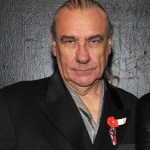 "I sincerely regret to inform you that after a final effort to participate in the upcoming Sabbath shows a failure to agree has continued," said Ward in his statement. "It is with a very sad heart that I bring you this news. I am sincerely passionate in my desire to play with the band, and I'm very, very sorry that it's fallen to this."
The three remaining original members—singer Ozzy Osbourne, guitarist Tony Iommi, and bassist Bill "Geezer" Butler—are playing the band's hometown of Birmingham, England, on May 19. Following that gig, the band is headlining the Download Festival on June 10 and Lollapalooza on August 3rd.