BOSS Releases Windows Vista 64-Bit Driver for GT-10
Posted by Michael Mueller on July 22, 2009 at 10:40 AM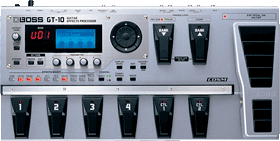 Boss is pleased to announce the availability of 64-bit drivers for Windows Vista for the GT-10 Guitar Effects Processor. Boss's flagship floorboard multi-effects unit, the GT-10 is driven by the latest custom-made DSP and proprietary sound-modeling COSM engine. This new-generation processor offers advanced effects, amp models, and an innovative user interface that includes EZ Tone, so guitarists can obtain the exact sound they desire in the most intuitive way imaginable.
"The evolution of 64-bit processing technology allows musicians to experience faster PC audio processing than ever before," says Paul Youngblood, President of Boss US. "Now our customers can integrate the GT-10 with any cutting-edge PC on the market."
Boss is also pleased to announce new custom GT-10 patches, created by Paul Hanson, author of the top-selling book "Shred Guitar" (Warner Bros.) and Boss Product Marketing Specialist.
Click here to download 64-bit drivers or the new custom patches for the GT-10.

---