BOSS Unveils ME-25 Guitar Effects and TU-3 Chromatic Tuner
Posted by Michael Mueller on January 14, 2010 at 2:18 PM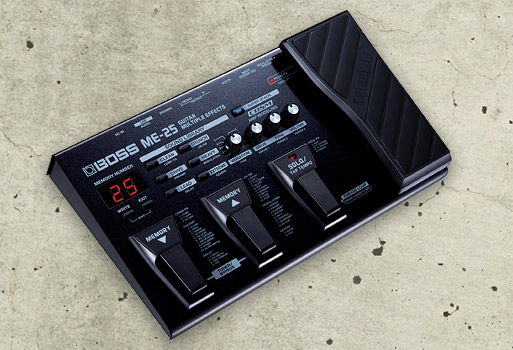 BOSS is proud to announce the addition of the ME-25 Guitar Multiple Effects to its popular line of floor-based multi-effects. Sporting a quick and easy user interface for professionals and newcomers alike, the ME-25 features a full complement of COSM amplifier models. The onboard Sound Library comes loaded with 60 effects combinations suitable for a wide range of playing styles. The ME-25 runs on six AA batteries or AC power, and its portable size makes it ready to rock anywhere.
The ME-25 is stocked full of the best BOSS effects—distortions, overdrives, modulation effects, Delay, Reverb, Harmonist, and many more. The built-in expression pedal controls a number of pedal effects, including wah, octave up/down, and a unique freeze effect. Three heavy-duty footswitches allow the user to select sounds and perform other functions, such as accessing the built-in tuner, tapping in delay times, and enabling the SOLO feature.
The ME-25 is the first multiple effect processor at this price point to include BOSS's renowned COSM amp-modeling technology. There's a range of classic amps from clean combos to raging stacks, along with a Super Stack function that gets big amp tone from a small practice amp. A 38-second looper is also included for real-time sound-on-sound recording.
The ME-25 also includes USB connectivity, allowing users to stream audio and other data back and forth with their computer. A powerful librarian is available as a free download to manage sounds, and the ME-25 is bundled with Cakewalk SONAR 8.5 LE for multi-track audio and MIDI recording.
The ME-25 will be shipping in January with a retail price of $276.50. For more information, click here.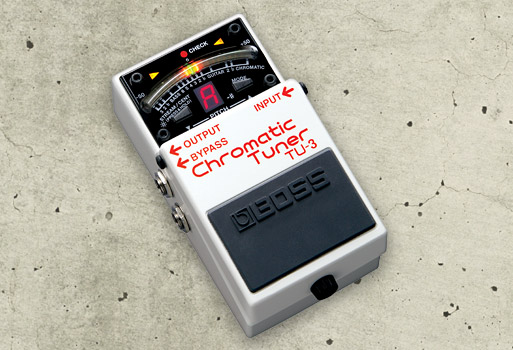 The world's best-selling tuner, the BOSS TU-2, evolves and improves with the debut of the new TU-3. Housed in a tank-tough BOSS stompbox body, the TU-3 features a smooth 21-segment LED meter with a High-Brightness mode to cut through outdoor glare. Choose between Chromatic or Guitar/Bass tuning modes, and enjoy visual pinpoint verification with AccuPitch. The TU-3 incorporates a convenient Note Name Indicator that can display notes of seven-string guitars and six-string basses, while the Flat-Tuning mode can support up to six half-steps.
The TU-3 will be shipping in January with a retail price of $160.50. For more information, please click here.


---