Mark Tremonti Talks Gear and AB III - Part 2
Posted by Michael Mueller on September 2, 2010 at 1:53 PM
continued from previous post
Whilst backstage, we also talked a bit about the new Alter Bridge album (see cover art below), at which point, he reached into his backpack, pulled out a CD-R, and popped it into the boom box. And there it was—new Alter Bridge music. Although we only got to hear little bits and pieces, it was enough to mark the release date on my calendar. As both Mark and Myles have said in interviews across the board, the music and lyrics do indeed have a darker, moodier vibe. With the caveat that we only heard a few minutes, it appears that AB III is the natural progression from the title track of Blackbird, a hunch that is confirmed by Tremonti.
"Well, that's the direction this album is going," he says. "There's a song on the new album called 'Show Me a Sign' that is similar, but darker. For example, when I went in to sing my harmony parts, I was reading some of Myles's lyrics for the first time, and afterward, I wanted to go ask him if he was OK. Some of the lyrics are so dark ... they pretty much couldn't be more opposite to Creed lyrics. They deal with struggles of faith and giving up hope. I think it's good to explore those dark moods, and it helps the artistic process, but it really made you want to give Myles a hug." [laughs]
The band will hit the road as soon as the album hits the shelves, trekking across Europe from October through the end of the year. Then, Tremonti says they'll try to squeeze in 10-15 U.S. dates in January, before Myles goes out again with Slash until March 2011. During the hiatus, Tremonti says he may try to work on his solo album. "I've already recorded five songs," he says, "and if I've got two and a half months, I'm gonna be working!"
Here's the track list for AB III. For a complete list of tour dates and the latest updates, visit AlterBridge.com.
Slip To The Void
Isolation
Ghost Of Days Gone By
All Hope Is Gone
Still Remains
Make It Right
Wonderful Life
I Know It Hurts
Show Me A Sign
Fallout
Breathe Again
Coeur D'Alene
Life Must Go On
Words Darker Than Their Wings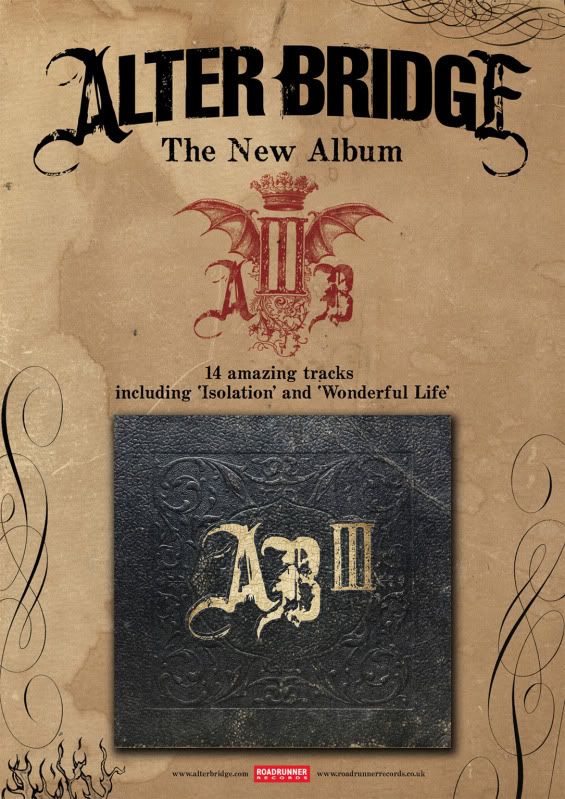 ---